Lil' Straw"BEAR"ries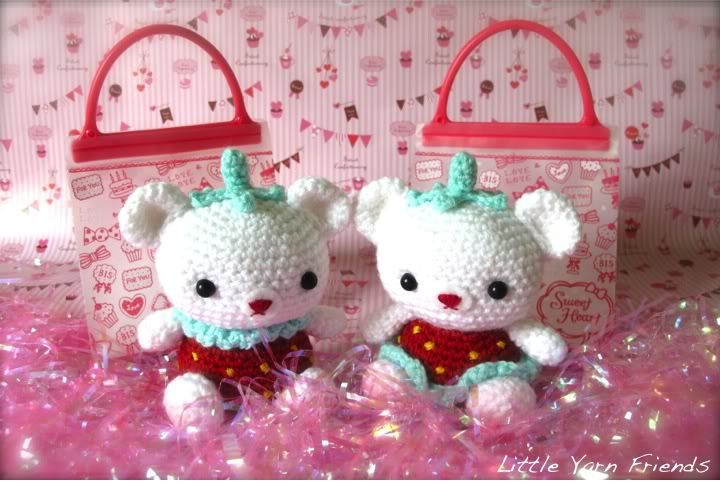 I'm happy to announce that I've finally completed my 2nd Creation! I've always wanted to make a bear for myself because they are simply so cuddly and adorable. One day, I was getting some groceries from ColdStorage and I saw so many red juicy strawberries that were on sale. I love strawberries! Of course I bought them. An idea suddenly came to my mind. Why not I make a bear that looks like a strawberry? That's a brilliant idea. I love them both and I'm sure it will be a good combination. And that's how Lil' Straw"BEAR"ries came about.
I had some pictures in mind on how my Lil' Straw"BEAR"ry will look like. I googled pictures on bears and found some cute amigurumi strawberry bears. So strawberry bears wasn't a new idea. But I know Lil' Straw"BEAR"ries has a special meaning to me because it's handmade and created by me. I didn't sketch out any drawings, I just crochet, type out the patterns on my phone and gauge as I go along. I'm glad that all the parts fitted nicely together on my first try. Yay! No re-dos.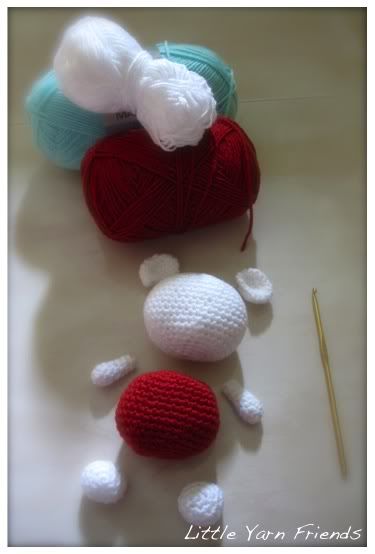 Here's a picture of my half done Straw"BEAR"ry. Do you know that the Ears and Feet have the exact same pattern? But the only difference is that you stuff the feet with fiberfill and flatten the ears. (See the picture below)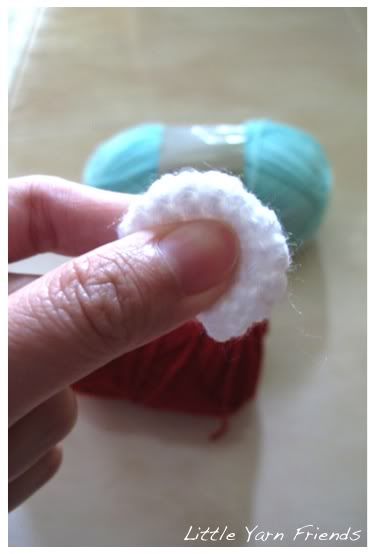 The crocheting part was easy, but piecing and sewing the parts together is another story. I do not have a yarn needle. All my needles were too small for sewing yarn. I ended up using normal matching colored threads instead. Thankfully, it turned out neat and the parts were intact too.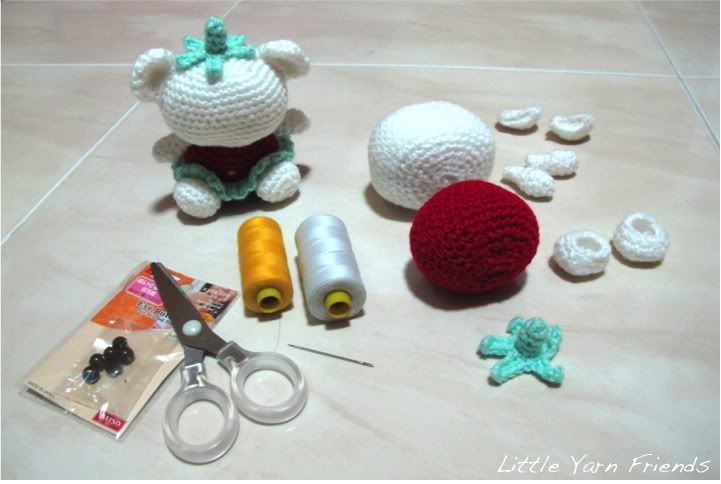 Here are some pictures of how I piece Lil' Straw"BEAR"ry together.
I took a longer time sewing them together than crocheting because you need to be specific on the placement of individual parts so it will look nice. Also ensuring that all parts are intact and no thread is visible.
As i was sewing, I realized Lil' Straw"BEAR"ry actually looks like a tomato. Haha!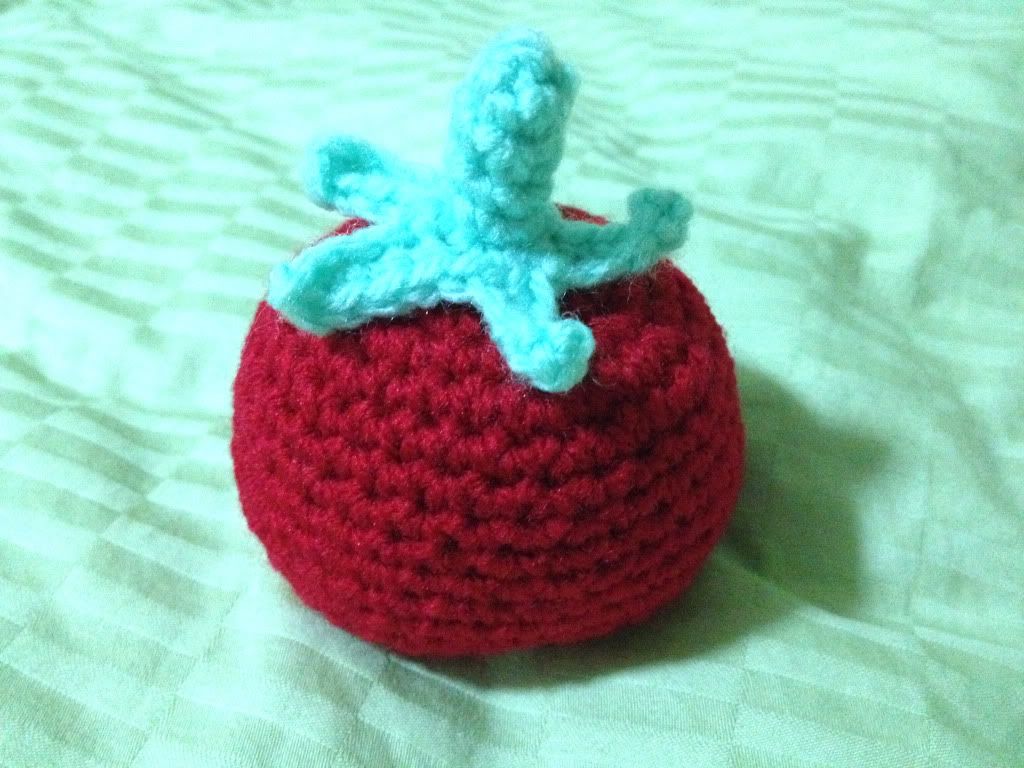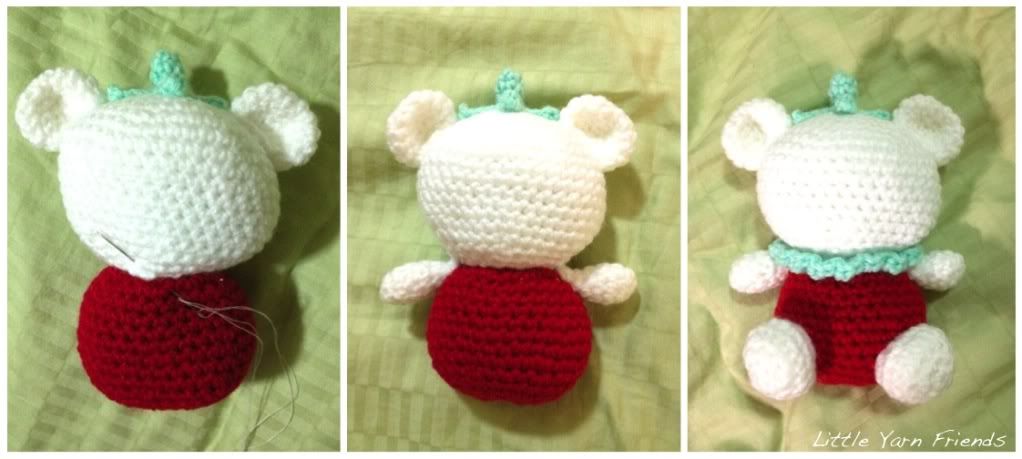 I decided to make 2 Lil' Straw"BEAR"ries so they can always keep each other company. My friends are almost complete. Some finishing touches and we are done.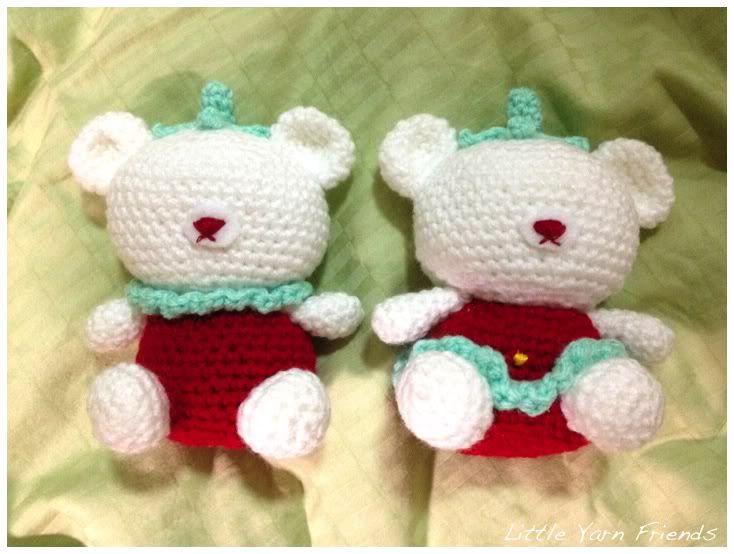 I added green frill as the collar for the little boy and a frill skirt for the little girl. Sewed on red noses on white felt and used fabric glue to stick the nose on their faces.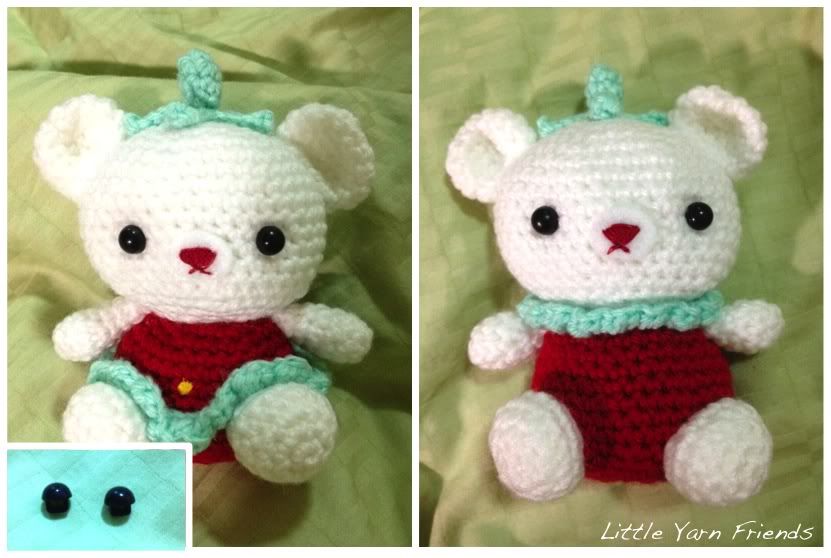 Adding on the eyes was another tricking part because I do not have proper safety eyes (a screw-like eyes with rubber stopper at the back). The only eyes i had was beads and if i sew them on to my bears, their eyes will look really poppy. I hesitated for very long and finally decided to cut 2 small holes and use fabric glue to glue the eyes onto the faces, praying that it will not drop out. To my surprise, it really worked! Fabric glue is amazing!! Look at the picture above, my bears does not have poppy eyes. Yay! One last step, to sew little yellow dots on their body so they'll look more like strawberries rather than tomatoes. (If you want to make Lil' Bear Tomatoes you can skip the yellow dots.)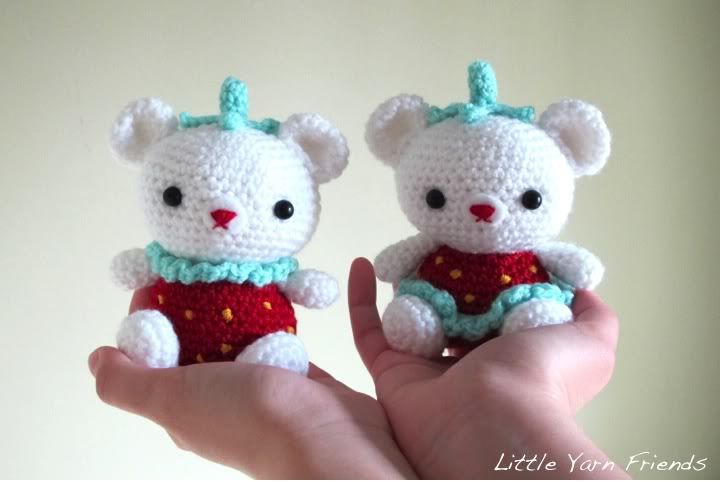 Little Yarn Friends proudly presents her 2nd Creation! They look so adorable sitting on my hands. Of course, i went photo crazy and snapped many pictures of my 2 new yarn friends.
Lil' Straw"BEAR"ries having fun with pink frills.
Here's a close up shot to have a clearer view of their faces.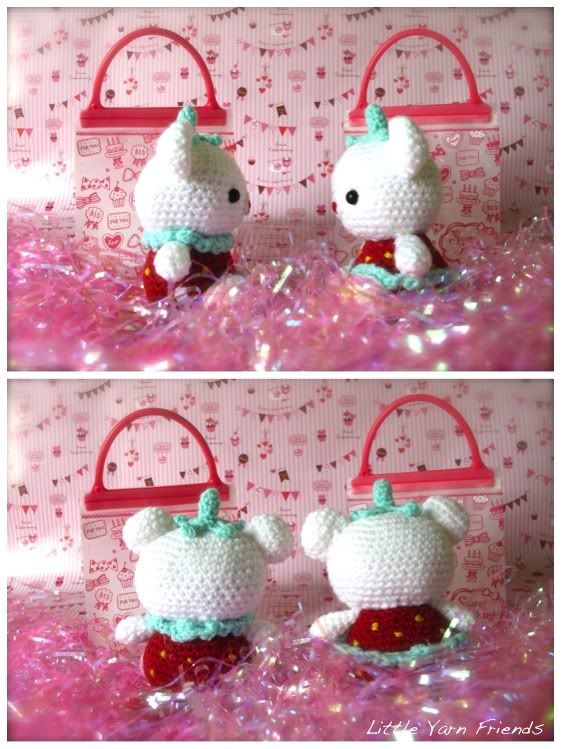 Side and back view of my new little yarn friends.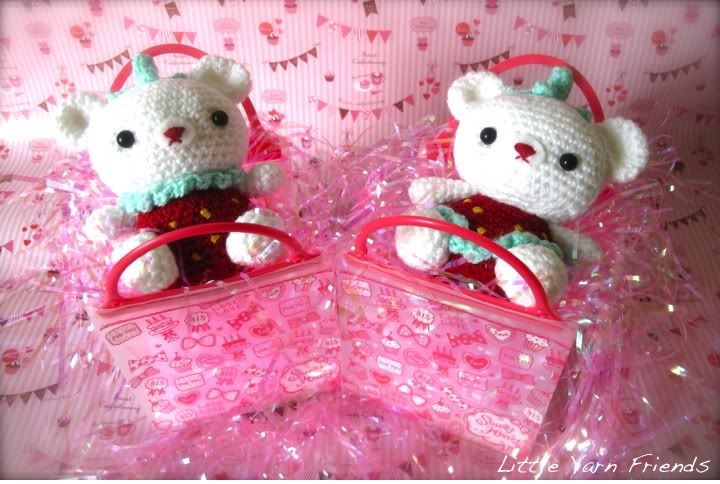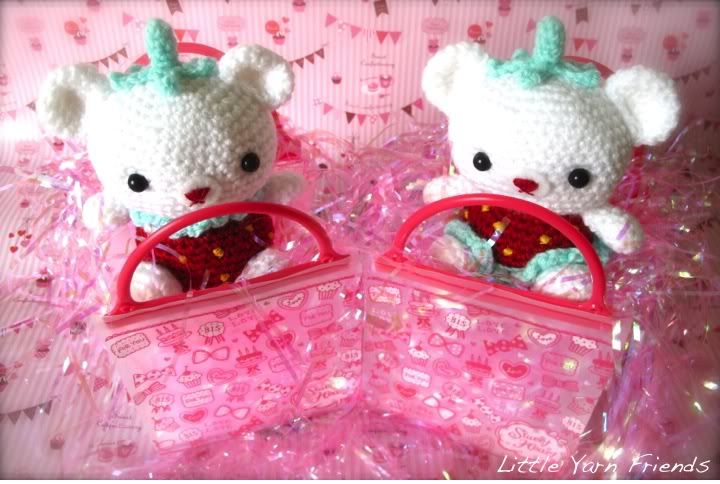 Lil' Straw"BEAR"ries chilling inside their little bags.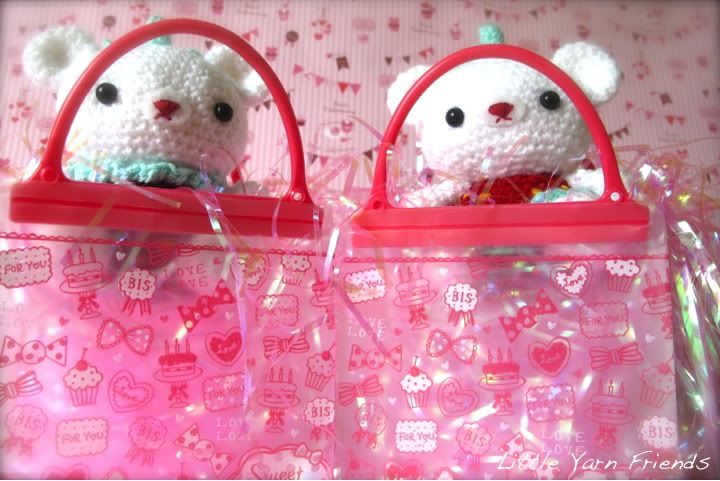 Peek-ka-boo!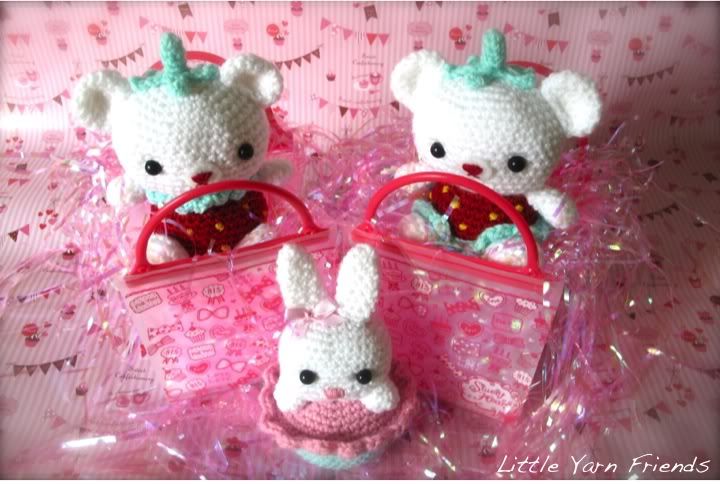 One last photo with Lil' bunny cupcake (my 1st Creation for Easter). You can find the patterns of this Lil' bunny cupcake Here.
And you can find Lil' Straw"BEAR"ries patterns Here. Thank you so much for dropping by.
Crochet with love, Rachel H